Tenerife south airport - Car rental Tenerife Airport
The Canary Islands are a popular destination when it comes to organizing a pleasure trip on Spanish territory.Tenerife Sur is, as the names, the lower part most sought in this corner of paradise that gives its name to the airport complex in the area used to accommodate the tourists and manages outgoing goods. Ranking as one of two international airports present in the Canary Islands, Tenelife Sur connects the main routes through foreign by a fast service.
The island of Tenerife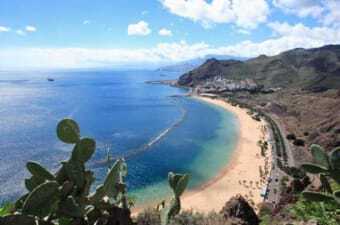 Tenerife is one of the islands that form the Spanish autonomous community and with the well-known La Palma, La Gomera and El Hierro form the province of Santa Cruz de Tenerife: ideal location for your holidays, offering many attractions. The population stood at 900,000 people concentrated mainly in a few urban centers in the area. Among the places of interest we count surely San Cristóbal de La Laguna, one of the most populated of Tenerife who also holds the official designation of World Natural Heritage. There are also the common villages of Santa Cruz de Tenerife and La Laguna: it follows that the direct contact with the islanders never fails.
Second appeal for excellence, including the Teide National Park is officially recognized as UNESCO World Heritage Site. Its fame is due to the presence of the Teide, which is the highest mountain on Spanish territory and one of the largest volcanoes in the world, a destination not to be missed by any naturalist avid. The division of the island is patchy and includes 31 major municipalities with small villages scattered in the surrounding areas: RentalUp offers a quick and easy rental service for the customer who feels the need to move with confidence, entrusting themselves and their route to a leader in the industry.
Holidays and Events
The carnival is probably one of the events that made Tenerife one of the most popular places in Spain.
Just the Carnival of Santa Cruz de Tenerife which is held on a regular basis is what most manages to animate the spirits of the islanders, involving tourists in the many activities devoted to fun and entertainment.
Should also be noted as such holiday is recognized as the second most important carnival in the world.
As a whole island, of course Tenerife as well as all the islands enclosed in the Canary Islands offer different types of attractions linked to its beautiful coastline, internationally renowned. Diving, fishing and surfing sessions are among the most popular activities for who has the fortune to stay in the area.